The Best eSIM in United States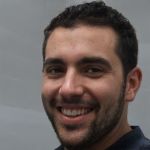 Eric Costilia
Staying connected to the Internet, making calls, and sending texts are a major concern for travelers in the United States. eSIM allows you to switch between different carriers and plans. Instant delivery and activation, attractive data plans, and low prices. Try it now and save up to 90% on roaming.
Our Top Picks eSIM in United States
#1. airalo - Easy-to-use app, support 190+ countries, various data plans (1GB, 5GB, 10 GB). Great choice if you travel in USA.
#2. airhubapp - Provides high quality International eSIM cards with cheapest data plans in USA.
#3. knowroaming - Max speed on roaming, 24/7 customer support, it has an easy-to-use Android app.
#4. holafly - Starts from $1.60/gig in United States. Mobile data Sharing, save on roaming
#5. keepgo - Worldwide Data Plans, excellent solution for people who travel regularly in USA
eSIMs vs US Prepaid SIM Cards
Buying an eSIM for the United States for travel enables travelers to avoid wasting time in crowded stores looking for SIM cards that may or may not be compatible with their phones. Additionally, there"s no guarantee that the SIM card you need is available, while you"ll be charged extra fees for accessing the internet to try and find a SIM card and location that works.
However, for those set on a prepaid SIM, here are a few topic providers to consider:
Provider
Coverage
Data
Duration
Price (USD)
AT&T
US
15GB - 100 GB
Per Month
$35/mo - $90/mo
Size:
AT&T supports a total of 201.79 million wireless subscribers.
Verizon
US
5GB - 150 GB
Per Month
$40/mo - $100/mo
Size:
As of 2021, approximately 143 million subscribers use Verizon.
T-Mobile
US
2GB - 50 GB
Per Month
$10/mo - $50/mo
Size:
T-Mobile has reached a record high of 113.6 million for its total customer count.
Our Top Product Picks
Where to Buy Prepaid SIMs in the US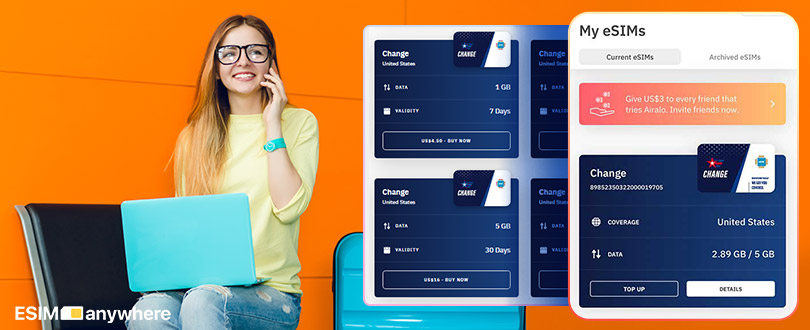 The best travel SIM for the United States comes down to your needs, preferences, and budget. However, for travelers more interested in visiting local stores, here"s where you can buy SIMs:
Carrier Stores - You can visit stores across New York, San Francisco, Los Angeles, and major other cities that support telecommunication carriers such as AT&T, Verizon, T-Mobile, and Sprint to purchase prepaid SIM cards. (Although, it"s more challenging to find a prepaid SIM in the US in smaller cities, as availability is often an issue).
Convenience Stores - Retailers like 7-Eleven, Walmart, and Best Buy offer prepaid SIM cards from various carriers.
Electronic Stores - Whether you"re visiting Las Vegas, Chicago, Miami, or other popular destinations, prepaid SIM cards can be purchased through electronic stores such as Best Buy, Fry's Electronics, and Micro Center. Again, compatibility and in-stock availability will be your biggest obstacle - which is why most tourists buy an eSIM.
Airport Kiosks - Some airports, such as JFK airport, have kiosks that sell prepaid SIM cards, providing a convenient solution for travelers who need to get connected upon arrival in the United States.
When compared, a prepaid plastic SIM is not as advantageous as buying a prepaid eSIM in the United States. Why? Availability, costs, SIM swapping, and convenience are not in your favor as they are with the best eSIM for the US.
How Much Does It Cost to Buy eSIMs in the US?
The cost of obtaining an eSIM can vary based on the provider and the required data plan. For a complete oversight of the costs involved, kindly refer to the table below:
| Provider | Coverage | Data | Duration | Price (USD) |
| --- | --- | --- | --- | --- |
| Airalo | USA | 1GB - 10GB | 7 - 30 Days | $4.50 - $26.00 |
| KnowRoaming | USA | 1.5GB - 10GB | 7 - 180 Days | $3.85 - $50.00 |
| AirHubApp | USA | 1GB - 10GB | 7 - 30 Days | $7.00 - $25.50 |
| Holafly | USA | Unlimited | 5 - 90 Days | $19.00 - $99.00 |
| KeepGo | USA | 100MB - 25GB | 1 Year | $3.00 - $78.50 |
| Ubigi | USA | 500 MB - 20GB/month | 1 Day - Unlimited | $4.00 - $39/month |
What are the Benefits of US eSIM for Tourists?
eSIMs offer several benefits for tourists visiting the United States, such as not requiring an unlocked phone while improving flexibility and convenience. Additional benefits include:
Affordable Rates - Prepaid eSIMs generally provide more economical data plans compared to traditional physical SIMs, particularly for those travelers who only require a limited amount of data for a brief duration.
Data Rollover - eSIMs enable you to carry over unused data to the following month, eliminating the need to worry about running out of data.
Simple Activation and Setup - eSIMs can be quickly activated and set up using a mobile app, making it easier for users to remain connected to friends and family.
No SIM Swapping - With an eSIM, you can eliminate the hassle and risk of losing your physical SIM card when switching between different locations.
1. airalo
| | |
| --- | --- |
| Validity (day): 5, 7, 8, 10, 15, 30, 60, 90, 180 | Mobile App: iOS, Android |
| Regions: Europe, America, Middle East, Africa, Asia, Oceania | Coverage: over 190 countries |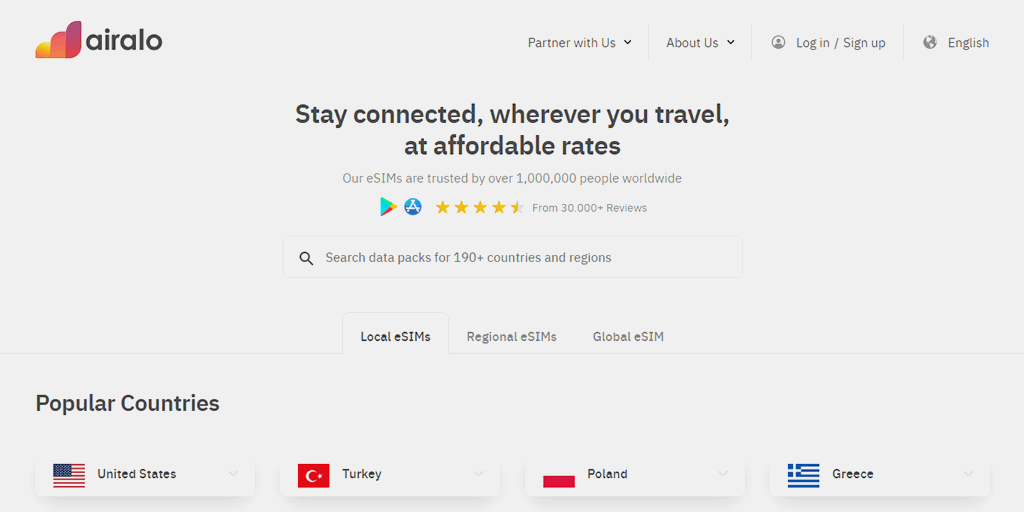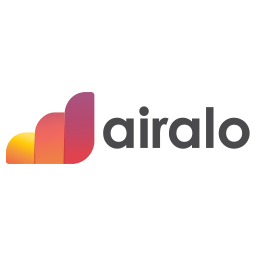 Founted in 2019, Airalo covers over 190 countries include USA. It has easy-to-use mobile app, local and global data plans. As a bonus you can earn $3 for referring friend.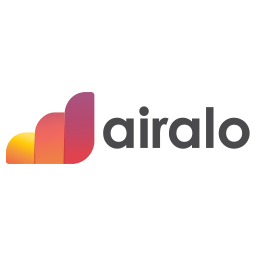 Airalo
Try AirAlo now! Validity: 7 to 30 days, starts from $1.66/GB
2. airhubapp
| | |
| --- | --- |
| Validity (day): 3, 7, 8, 10, 14, 15, 30, 90, 180, 365 | Mobile App: iOS, Android |
| Regions: Europe, North America, Middle East, South Africa, Asia Oceania | Coverage: 98 countries |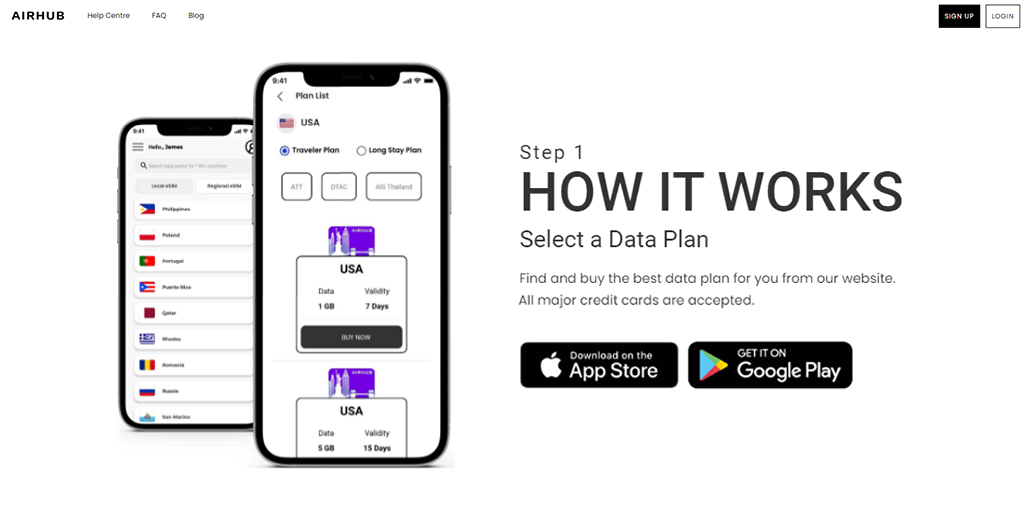 Over 250 + data plans in 180 countries so you can easily access global content while you visit USA

airhubapp
Try Airhubapp for yourself it's fast and safe
3. knowroaming
| | |
| --- | --- |
| Validity (day): 1, 3, 7, 15, 30, 90, 180 | Mobile App: iOS, Android |
| Regions: Europe, North America, Middle East, Africa, Asia, Oceania | Coverage: 97 countries |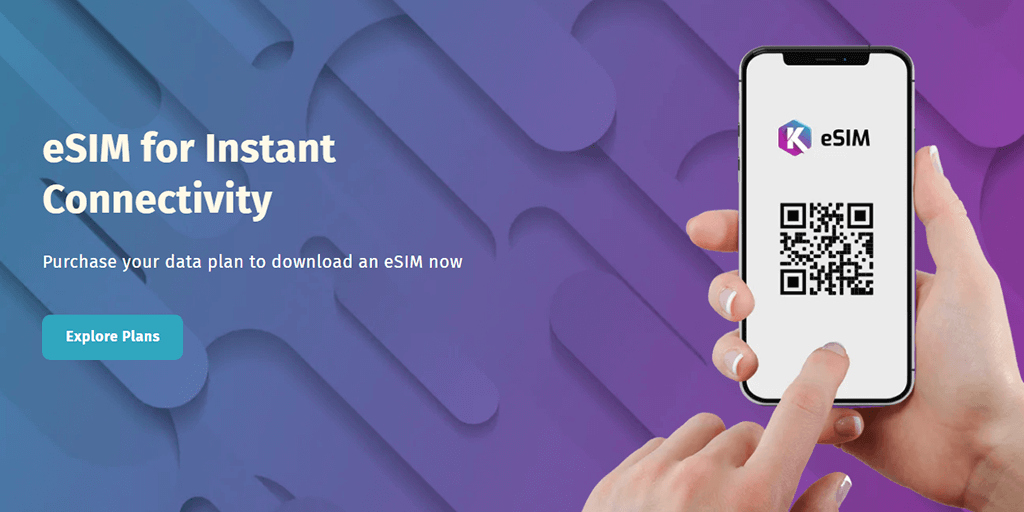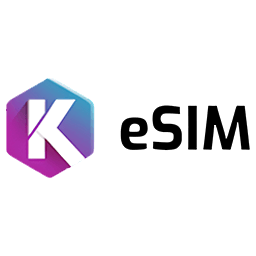 With KnowRoaming you'll always be connected to the Internet while traveling.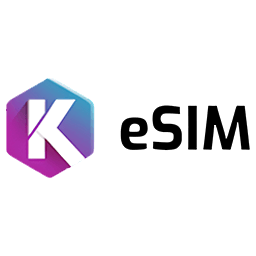 Knowroaming
Knowroaming offers local eSIM for a low price
4. holafly
| | |
| --- | --- |
| Validity (day): 3, 7, 8, 10, 14, 15, 30, 90, 180, 365 | Mobile App: iOS, Android |
| Regions: Europe, North America, South Africa, Asia, Oceania | Coverage: over 130 counties |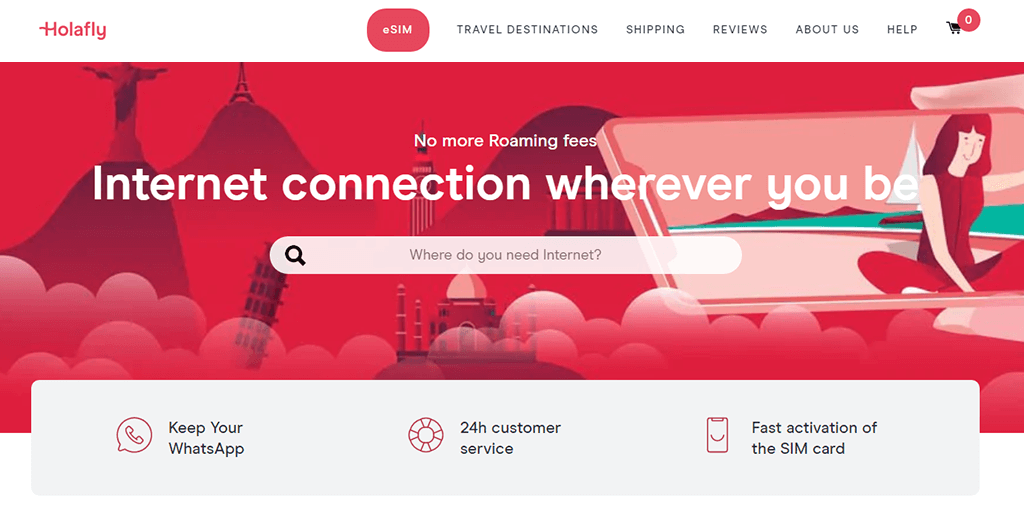 Stay connected while international travel, price from $2.25 per GB. Holafly's eSIM has become an excellent option for staying connected without wifi or roaming while you'are abroad, recommended package: 6 GB of highest speed (5G/4G/LTE) data AND unlimited 2G (128 kbps). eSIM can be recharged any time online

Holafly
Take advantage of this offer now and save on roaming
5. keepgo
Price Range: $3 - $740. Special offer: 2GB free
| | |
| --- | --- |
| Validity (day): 365 | Mobile App: iOS, Android |
| Regions: Europe, North America, South Africa, Asia, Oceania | Coverage: 110 counties |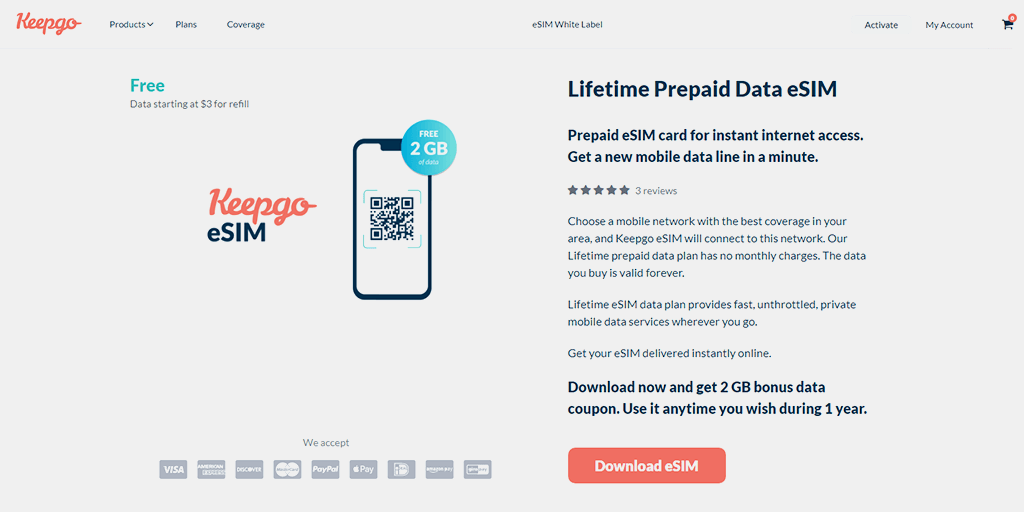 Keepgo offers data plan services for travelers in 100+ countries, with no commitment. Stay connected abroad!

Keepgo
Get your eSIM now. Trusted carriers only!
FAQ
Who is the best eSIM provider to use in the United States?

The best eSIM provider will depend on your needs, budget, and preferences but among the top 6 eSIMs to consider include:

Airalo
Holafly
Ubigi
AirHubApp
KnowRoaming
KeepGo

How long does it take to activate and use an eSIM?

eSIMs are virtually activated within a couple of minutes through an Internet-enabled device.

Are there unlimited plans supported by any of the eSIMs reviewed?

Holafly provides unlimited data plans between 5 to 180 days, making them an excellent choice for travelers with shorter trips.
Other eSim Providers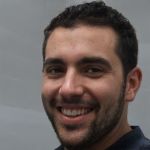 Written by:
Eric Costilia
Eric Costilia is an experienced writer, editor and researcher. His writing focuses mostly on tech, gaming. He wrote dozens of eSIM carriers reviews, which makes him an expert of this technology.